Tender, juicy, grilled-to-perfection ribs are hard to resist. Whether you like 'em rubbed and seasoned, brushed with a flavourful sauce, or a little bit of both, we're offering up some of the most delicious ways to cook ribs, including baby back ribs, short ribs, spare ribs, and a vegetarian option!
Are you looking to learn how to cook ribs?
Rest assured, these rib recipes are easy to prep! We have your rib rubs and sauces covered. Grilled rib recipes are often a favorite, but if you aren't interested in grilled ribs, we've got you covered. Learn how to cook ribs using your grill, oven, or slow cooker. Tip: Many chefs opt to partially cook ribs in the oven before transferring to the grill, but if that's not an option, you can often finish ribs under the broiler. Check out our go-to rib recipes below.
Grilled ribs
Fire up the grill, we're having ribs tonight! And we're adding a little wood to the barbecue, with this recipe for St. Louis Ribs that combines soaked wood chips with traditional charcoal to create an extra-bold layer of smoky flavour.
Seasoned with Stubb's BBQ Rub and basted with Stubb's Original Bar-B-Q Sauce, these ribs deliver a double dose of legendary flavour.
Rubbed ribs
The barbecue is the perfect place to cook smaller, more tender baby back ribs, and a little dry seasoning goes a long way to creating juicy, mouthwatering flavour. Check out this Grilled Applewood Baby Back Ribs recipe featuring Smouldering Smoked Applewood Seasoning.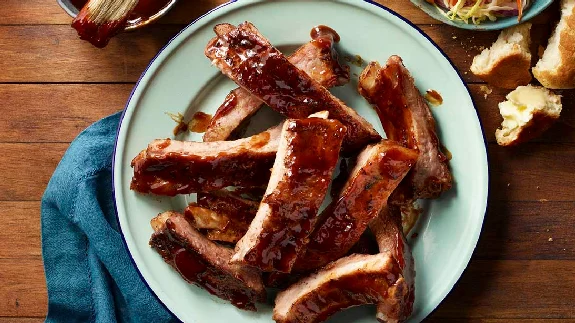 Baked ribs
The best backyard chefs often bake their ribs before putting them on the grill for a few minutes of charring. It's a good way to cook ribs quickly, creating a crisp crust and juicy interior, all while regulating temperature.
Put the method to the test with this recipe for Chipotle Cinnamon Baby Back Ribs. Baked first, then finished on the grill, they deliver a craveable, sweet heat and are ready to eat is less than an hour and 30 minutes.
Boiled ribs
Baking isn't the only way to pre-cook ribs before that final all-important time on the grill. You can also boil them. This helps to render out the fat and release the natural flavour of the meat. Our Asian Inspired Sweet and Spicy Spare Ribs recipe utilizes both techniques, along with ingredients like brown sugar, ginger, garlic and cayenne to create the most mouthwatering sweet heat.
Slow-cooked ribs
If you have the time, consider slow cooking as an option. It involves a little extra time, but the slow cooker does all the heavy lifting. Simply add ribs and ingredients into the crok for these Slow Cooker Sweet & Sour Beef Short Ribs. Nine hours later you'll have fall-off-the-bone-tender ribs that are ready to serve with your favorite side dishes for a complete family-style meal.
Fried ribs
"Ribs" in an air fryer? You bet. Every bite is a beautiful explosion of flavour in this plant-based, bbq-meets-Mexican-street-corn take on sticky ribs: Air Fryer Corn Ribs with Spicy Coconut Yogurt Sauce. Charred and slathered with a sticky-sweet glaze and rich, umami filled butter, corn "riblets" are finished with a crunchy topping of smoked paprika pumpkin seeds and spicy citrus coconut yogurt sauce to really steal the show.