Rubbed in Smouldering Smoked Applewood Seasoning and brushed in Chicken and Rib BBQ Sauce, these baby back ribs come off the grill loaded with bold, smoky flavour.
Non-stick spray
3 to 4 pound (1.5-1.8 kilogram) pork baby back ribs
6 to 8 tablespoon (90-120 milliliter) Smouldering Smoked Applewood Seasoning
Chicken and Rib BBQ Sauce (la grille/) , for brushing and dipping
Preparation
1

Preheat grill by turning all burners to high. Once grill has reached medium-low heat (275°F-300°F/135°C-150°C), prepare grill for indirect cooking by turning one side burner to medium-high and turning off all other burners on other side. Spray grill with non-stick spray.

2

Rub ribs evenly with seasoning over both sides. Place ribs on unlit side of grill. Close grill.

3

Grill 2-3 hours or until ribs are tender or an internal temperature of 71°C (160°F) is reached, brushing on desired amount of BBQ sauce during last few minutes of grilling.

4

Serve ribs with additional BBQ sauce on the side for dipping, if desired.

5

Test Kitchen Tips:

o The easiest way to prevent pork from sticking to the grates is to clean and oil your grill grates well before grilling.

o Basting your ribs during the last few minutes of grilling prevents sauces with high sugar content from burning.

o Tough, burnt pork? No thanks. To avoid overcooking, remove pork from the grill just before internal temperature reaches 71°C (160°F), and allow to rest 10 minutes before serving. The temperature will continue to rise slightly (this is okay!). This will allow the juices be redistributed.

o When it comes to grilling, the right cut of pork can make or break your meal. Add these to your list of go-tos:
o Pork Tenderloin: one of the most tender, lean cuts available, it's easy to prepare and impressive to serve.
o Pork Shoulder: great for crowds, it's usually seasoned with a rub and then cooked slow and low until it is tender enough to pull.
o Bone-in Center Cut Pork Chops: chops can be marinated, seasoned or rubbed, then quickly grilled over direct high heat for juicy, tender meat and a flavour-loaded crust.
o Baby Back Ribs: tender and tasty, this cut makes for an impressive entrée at your backyard BBQ. Look for other popular varieties like spare and St. Louis ribs, too.
RELATED RECIPES
Roasted Garlic & Peppers Pasta Toss
Roasted Garlic & Peppers Pasta Toss
Manitoba Sweet Chili Ribs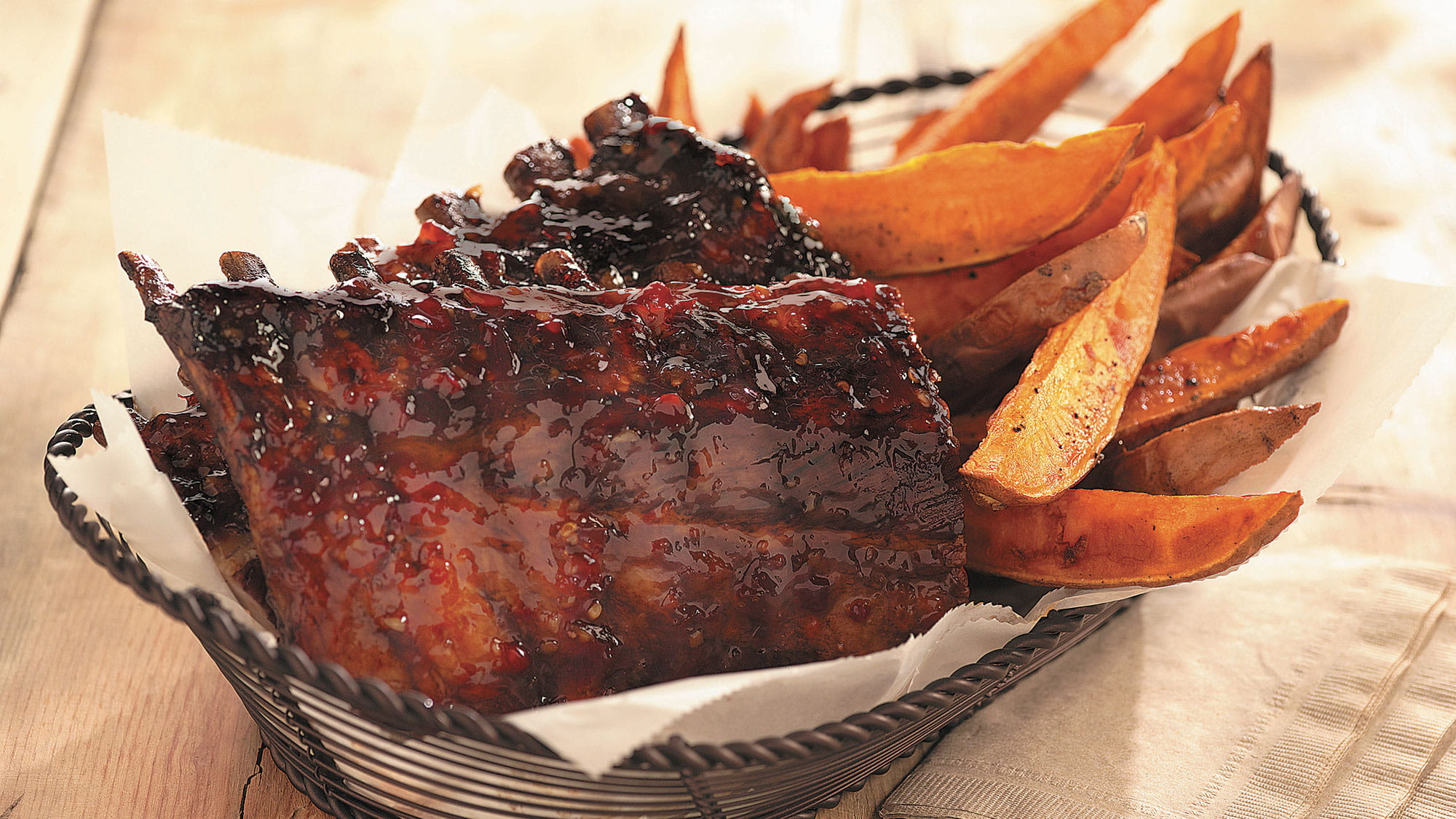 Manitoba Sweet Chili Ribs
Grilled Steak and Pepper Pinwheels
Grilled Steak and Pepper Pinwheels
GET GREAT RECIPE IDEAS BY CREATING YOUR FLAVOUR PROFILE.