Small oven-baked tortilla disks, topped with homemade guacamole and sliced steak coated in roasted chili fajita sauce.
2 large tortillas
2 avocadoes
Juice of 1 lime
8 sprigs fresh cilantro, leaves removed, chopped
2 green onions, minced
1 Italian tomato, finely diced
10 ounce (300 gram) strip loin steak, or your favourite tender steak
1 package (182 milliliter) fajita with roasted chili skillet sauce (club house)
1/2 cup (125 milliliter) sour cream
Preparation
1

Preheat oven to 375°F (190°C).

2

Cut out 12 small disks from each of the tortillas using a cookie cutter. Arrange them on a parchment lined baking sheet. Brush lightly with vegetable oil and bake for 10 minutes or until they become crispy. Set aside.

3

To make the guacamole, remove the flesh of the avocadoes to a bowl and mash with a fork. Add the lime juice, cilantro and green onion. Season with salt and pepper. Add the tomatoes and mix to just combine. Set aside.

4

In a hot skillet with vegetable oil, sear the steak until nicely browned. Remove to parchment lined baking sheet and brush with ½ cup (125 mL) skillet sauce. Finish cooking in oven for 3-5 minutes or until internal temperature reaches 145°F (63°C). Let meat rest 5 minutes before slicing.

5

To assemble, place a small dollop of guacamole on a tortilla disk. Top with a piece of steak and garnish with a small spoonful of sour cream and a sprig of cilantro. Drizzle with remaining skillet sauce before serving.

6

Test Kitchen Tip: Use tortilla chips to replace the tortillas and omit step 2.
RELATED RECIPES
Fried Chicken Rice Balls with Creamy Plum Vinegar Ginger Sauce
Fried Chicken Rice Balls with Creamy Plum Vinegar Ginger Sauce
Cheesy Loaded Taco Fries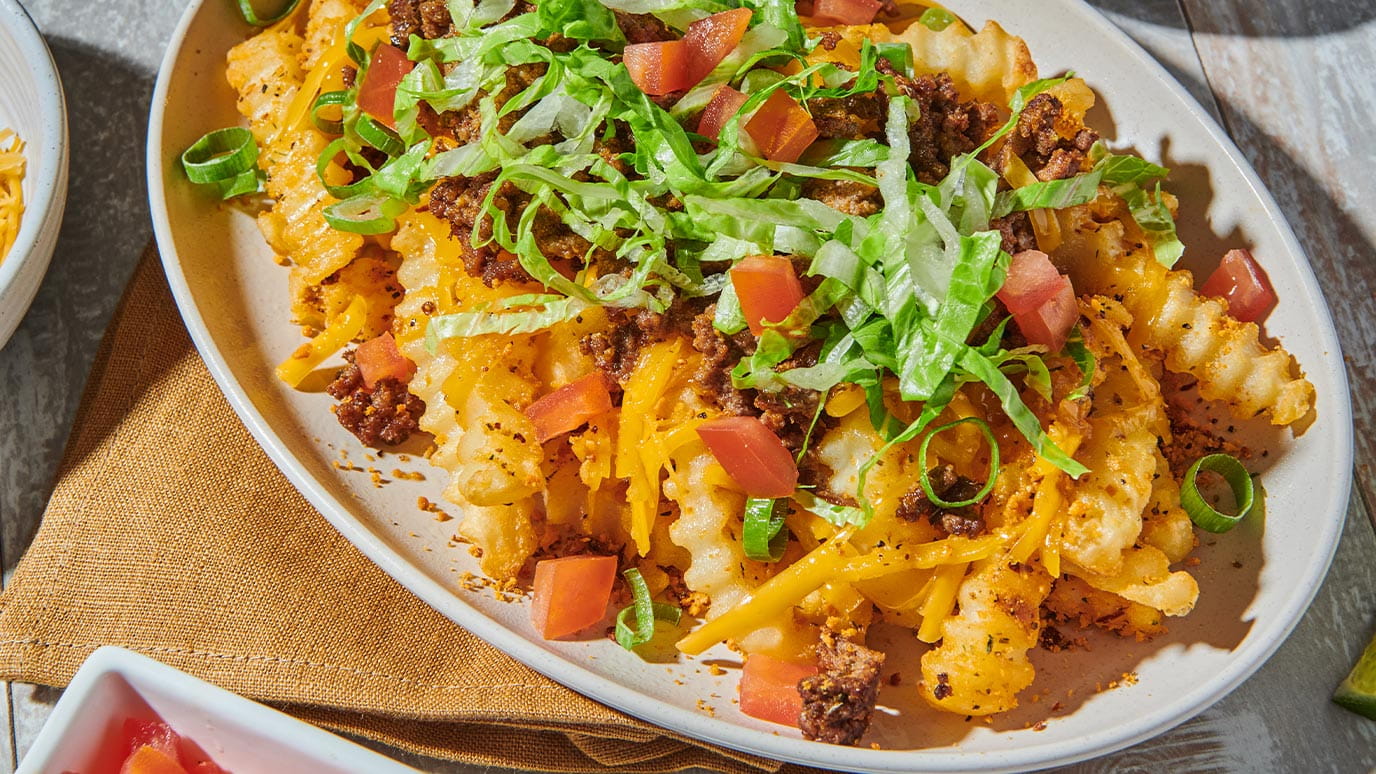 Miso Shrimp and Shishito Pepper Yakitori
Miso Shrimp and Shishito Pepper Yakitori
GET GREAT RECIPE IDEAS BY CREATING YOUR FLAVOUR PROFILE.