DISCOVER THE HOUSE OF FLAVOUR BY MCCORMICK
Walk the halls of Flavour Forecasts past. Earn exclusive wearables. Get the inside scoop at live events. There's a whole world of deliciousness to discover around every corner of this tasty meta-experience.
FLAVOUR OF THE YEAR MEETS THE METAVERSE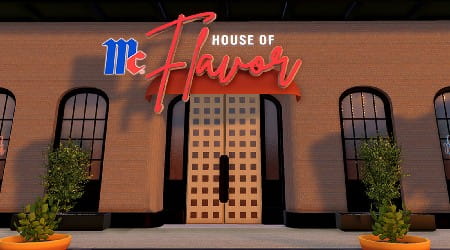 Totally immersive and ridiculously cool, the 3D world of flavour!
FLAVOUR OF THE YEAR MEETS THE METAVERSE
FLAVOUR FORECAST 23RD EDITION
Frequently Asked Questions
Why is McCormick

®

joining the metaverse?

We want to bring flavour into a world where taste doesn't exist. Launching our first ever Flavour of the Year in the metaverse is a fun educational experience where visitors can learn about Vietnamese x Cajun Style Seasoning, celebrate the cultural cuisine and explore recipes, past flavour trends, and more.

Do I have to pay to enter the metaverse?

Nope! Entering and exploring the House of Flavour by McCormick is free.

What do I need to enter Decentraland?

There are two ways to enter

Decentraland

. You can connect your digital wallet via

MetaMask

, or enter as a guest. (One bummer of entering as a guest is you won't be able to keep any wearables you earn.) Once you choose to enter with your wallet or as a guest, you'll be prompted to create an avatar, if you don't already have one.

How do I install Metamask in Chrome?

Step 1: Open a Chrome browser window on your desktop computer.
Step 2: Log in to your Google account in Chrome.
Step 3: Click on the Settings menu in Chrome (look for the three dots in the upper right corner).
Step 4: Select "More tools" and then select "Extensions."
Step 5: Click on the menu in the upper left corner of Chrome next to "Extensions."
Step 6: Select "Open Chrome Web Store" at the very bottom of the browser window on the left.
Step 7: Search the Chrome Web Store for "MetaMask."
Step 8: Select MetaMask (one word) and select "Install."
Step 9: MetaMask should now show up in your Chrome extensions.

How do I set up my MetaMask wallet?

Step 1: After it is installed, click on the MetaMask extension and follow the instructions to continue.
Step 2: Be sure to save the 12-word MetaMask passphrase you receive during registration. It's important to keep the passphrase in a safe and secure place, like a safe deposit box or home safe, because it is required to access, use and trade your NFTs.
Step 3: For maximum security, do not take a photo or upload the passphrase to the web unless it is stored in a password protected file.
Step 4: You will also be asked to set up a password to access MetaMask. Keep this safe and secure.
Step 5: Once your MetaMask wallet is set up in Chrome, you can log on to Decentraland and sign in.

How do I create an avatar?

Creating an avatar is one of the first steps taken after signing in to Decentraland. Once you sign in, you'll be prompted to create your customized avatar. Your avatar is your virtual representation in the metaverse and what your avatar looks like is completely up to you. Personalize your avatar's skin tone, hairstyle and outfit all the way down to accessories. You can then name your avatar.

What types of activities can I do in the House of Flavour by McCormick?

When you get to the metaverse, a lot of the fun is in the exploration of the space. So, look around and discover what you can find on your own. But for sure, don't miss out on interacting with The Chef, learning about our Flavour of the Year, or roaming the Hall of Flavour. And definitely complete the Chef's quest to earn some tasty wearables, while supplies last.

How do I collect the wearables?

After completing tasks for The Chef, you'll receive a digital token for a wearable. Then, you can visit our wearables merch table and pick your prize based on the availability of the limited-edition options. When you earn a wearable, it'll be dropped to your avatar. To receive and save wearables, you must have your

MetaMask

digital wallet connected. Once you've received your wearable, it will show up when visit to the Avatar Creator within Decentraland. Click to the wearables tab and choose which ones your avatar will wear.

When will I receive my wearable?

Your wearable will appear in your wallet when it is available. It may not appear right away based on network connection but don't worry it is on the way.

Do I get to keep the wearable forever? Is it an NFT?

Great news! Your wearables do not expire and may always be worn within Decentraland. (And yes, they are technically NFTs that your avatar can wear.)

How do I set up a MetaMask wallet?

Go to MetaMask.io to download the extension or app based on the device and browser you're using. You can also find more information on how to get started here.

How do I find the House of Flavour by McCormick in Decentraland?

Decentraland is not available on mobile devices, so make sure you're accessing on a desktop. You can also gain access by visiting decentraland.org and navigating to our location at 30,137.

I'm clicking the link, but I'm not able to enter. What should I do?

First, make sure you're on a desktop computer. Decentraland is not available on mobile devices. You could also try going to decentraland.org and navigating to our location at 30,137.

What's a seed phrase and what should I do with mine?

Your seed phrase is your code to accessing your virtual wallet. You'll want to keep your phrase in a secure place like a safe or wherever you keep valuables. Do not share your seed phrase with anyone else — IRL or in the metaverse

Does this work on my phone?

Not yet. Decentraland is not set up to work on mobile devices yet. Using Chrome on a laptop or desktop computer is your best bet.

Will there be any special guests to interact with?

When you stop by the kitchen, you'll be able to interact with an NPC (non-player character) avatar of Chef Trong Nyguen – James Beard Award Finalist,

Executive Chef and Owner of Crawfish & Noodles. He'll walk you through recipes featuring our Flavour of the Year: Vietnamese x Cajun Style Seasoning. He'll also give you tasks to complete to earn some totally craveable wearables.
COOK WITH FLAVOUR FORECAST 23RD EDITION RECIPES