A sachet of fragrant McCormick Gourmet spices – cinnamon, clove and allspice – infuses this holiday cocktail with some of the seasons most-loved flavours. Rim glasses with chopped peanuts and caramel sauce before serving.
1 teaspoon (5 milliliters) Cinnamon Ground
1 teaspoon (5 milliliters) Allspice Whole
1 teaspoon (5 milliliters) Cloves Whole
6 1/2 cups (1.625 liters) apple cider
1 1/2 teaspoons (7 milliliters) Sea Salt Grinder , divided
1/2 cup (125 milliliters) salted, dry-roasted peanuts
1 tablespoon (15 milliliters) Pure Vanilla Extract
1 1/2 cups (375 milliliters) caramel flavoured vodka
2/3 cup (150 milliliters) jarred caramel sauce, divided
Preparation
1

Place cinnamon, allspice and cloves in a coffee filter or double layer of cheesecloth. Tie with butcher twine to form a sachet. Place spice sachet, apple cider and 1 tsp (5 mL) of the sea salt in a 3-quart (2.8 L) slow cooker. Cover.

2

Cook 1 hour on HIGH or 2 hours on LOW.

3

Meanwhile, place peanuts and remaining ½ tsp (2 mL) sea salt in food processor; pulse until finely chopped. Place peanut mixture on shallow plate, set aside.

4

Remove spice sachet from cider mixture. Stir in vanilla and caramel flavoured vodka.

5

To serve, pour 2 tbsp (30 mL) of the caramel sauce on shallow plate. Dip rim of each mug in caramel sauce, allowing excess to drip off. Gently dip or roll rim in crushed peanuts to coat. Ladle beverage into mug. Gently stir in 1 tbsp (15 mL) caramel sauce.
RELATED RECIPES
Caraway Stout Cocktail
Thai Summer Breeze
Brown Butter Vodka Cocktail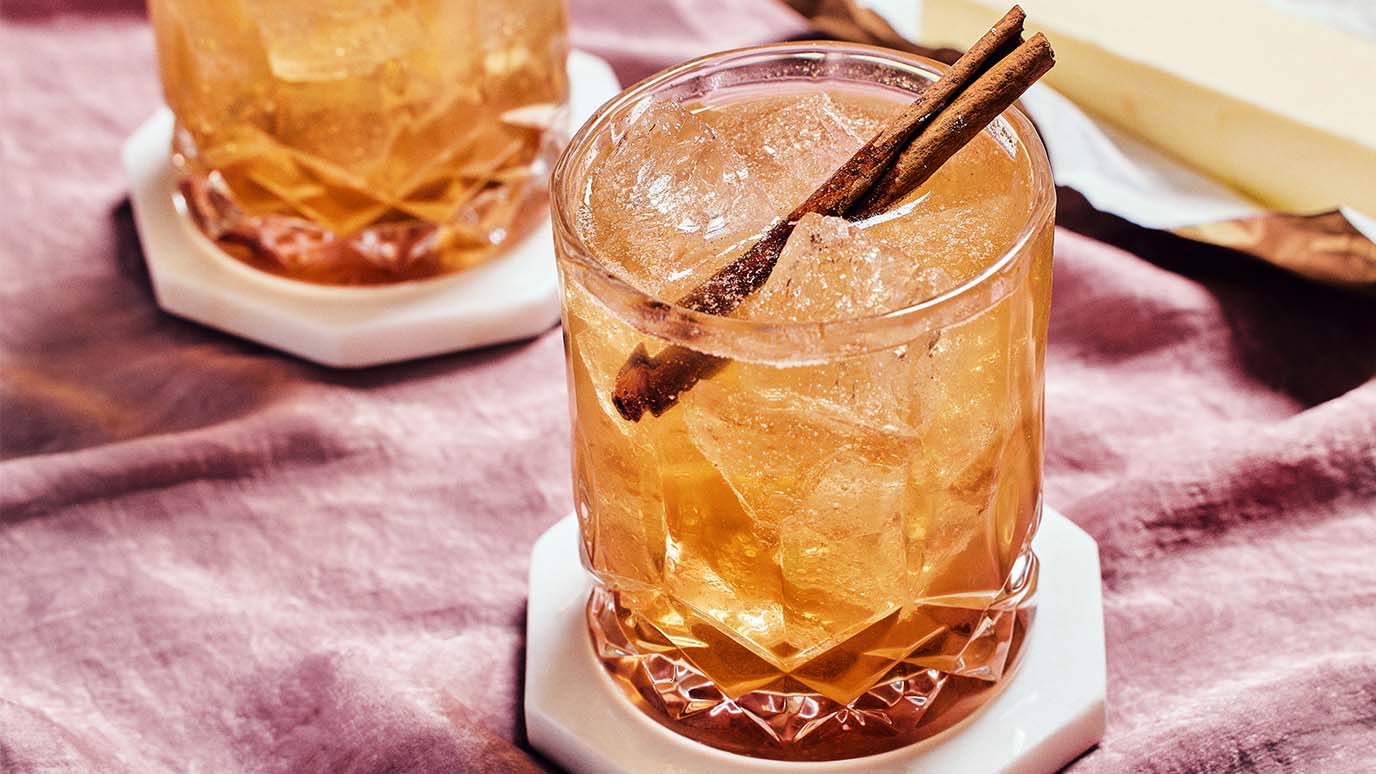 Brown Butter Vodka Cocktail
GET GREAT RECIPE IDEAS BY CREATING YOUR FLAVOUR PROFILE.