Korean barbecue meets Buffalo-style wings to create a new finger food favourite. In this succulent dish, grilled wings and Asian pear are partnered to create a flavour-packed adventure.
1/2 cup (125 milliliter) Gochujang (Korean pepper paste)
1/2 cup (125 milliliter) reduced sodium soy sauce
1/4 cup (60 milliliter) Liquid Honey Squeeze
2 tablespoon (30 milliliter) Garlic, Prepared Minced
2 tablespoon (30 milliliter) sesame oil
1 teaspoon (5 milliliter) Ginger, Ground
4 pound (2 kilogram) separated trimmed chicken wings
1 Asian pear
2 green onions, thinly sliced
1 tablespoon (15 milliliter) Organic Sesame Seed
Preparation
1

In medium bowl, stir Gochujang, soy sauce, honey, garlic, sesame oil and ginger to combine. Transfer ½ cup (125 mL) of the marinade to large glass dish (or resealable plastic bag); add chicken and toss to coat. Cover and refrigerate 30 minutes. Reserve remaining marinade.

2

Preheat oven to 375°F (190°C). Remove chicken from marinade (discard any remaining in bowl or bag). Place wings in single layer on foil-lined and greased rimmed baking sheet. Bake, turning wings once, for 30 minutes.

3

Meanwhile, quarter and core Asian pear. Cut each quarter into 3 pieces. Place half of the remaining marinade in large bowl; add pear and baked wings, tossing to coat.

4

Place wings and pear on greased grill over medium-high heat; close lid and cook, turning once, until grill-marked and juices run clear when chicken is pierced, about 5 minutes.

5

In large serving bowl, toss chicken and pear with remaining reserved marinade to coat. Sprinkle with green onions and sesame seeds.

6

Test Kitchen Tip: If grill grates are set wide apart, help keep pear slices from falling through by using a grill basket instead. Alternately, thread pear slices on skewers.
RELATED RECIPES
Easy Guacamole
Jalapeño Pretzel Mummy Dogs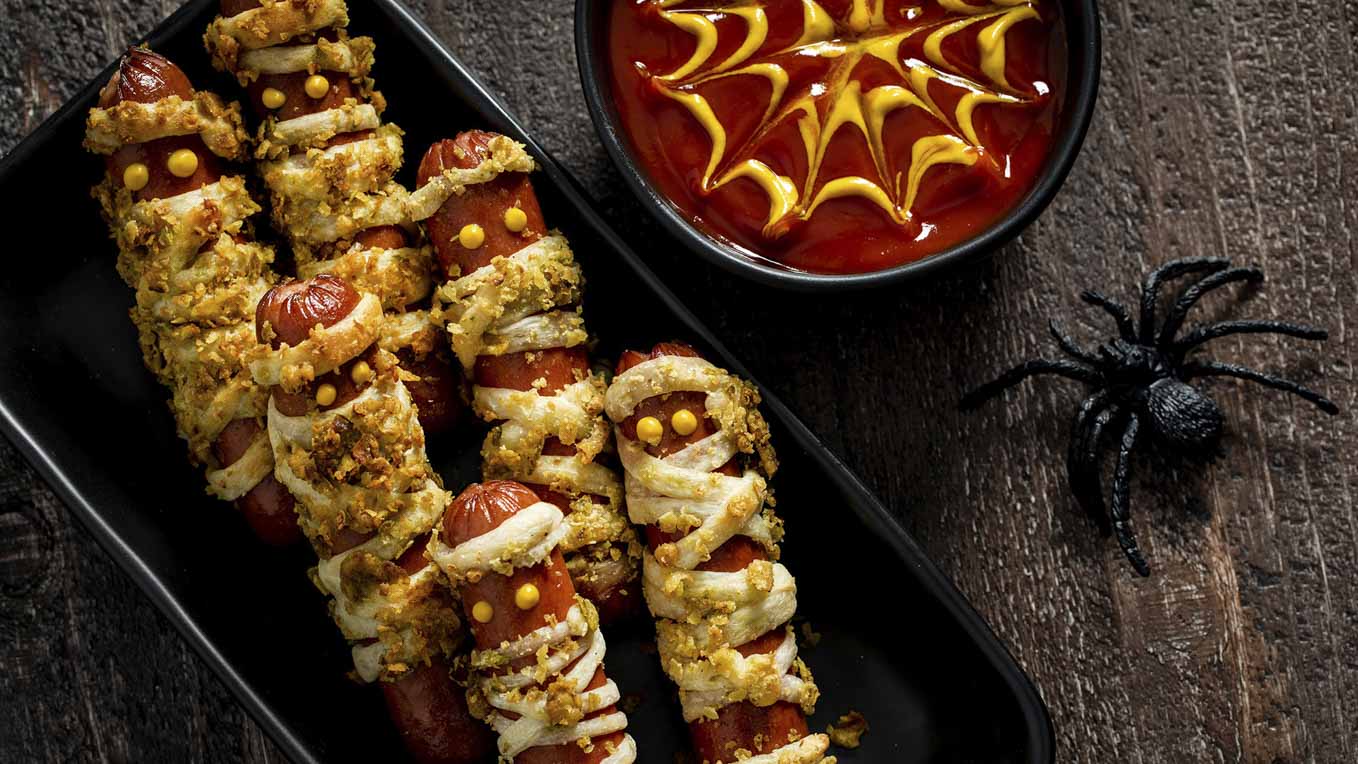 Jalapeño Pretzel Mummy Dogs
Paneer Pakoras with Cooling Raita Sauce
Paneer Pakoras with Cooling Raita Sauce
GET GREAT RECIPE IDEAS BY CREATING YOUR FLAVOUR PROFILE.