Served golden and crisp, these rice cakes (onigiri) are a delicious way to bring Izakaya pub food to your next party. Made with a vibrant mixture of spices, Sesame Seed, chicken and a tangy quick kimchi, they're sure to please everyone.
1 3/4 cups (425 milliliters) sushi rice
1 cup (250 milliliters) seasoned rice vinegar, divided
3 tablespoon (45 milliliters) sugar, divided
Juice of 1 orange
1 1/2 teaspoon (7 milliliters) Garlic Powder
1 teaspoon (5 milliliters) Ginger, Ground
3/4 teaspoon (2 milliliters) Red Pepper Crushed
2 cups (500 milliliters) coarsely chopped Napa cabbage
1/2 cup (125 milliliters) thinly sliced daikon radish
3 green onions, cut into 2-inch (5 cm) strips
1/2 red bell pepper, cut into thin strips
1 1/4 teaspoon (6 milliliters) Sea Salt Grinder , divided
2 boneless skinless chicken thighs (about ½ lb/250 g), cut into ¼-inch (6.5 mm) cubes
1 tablespoon (15 milliliters) Japanese seven spice blend (shichimi togarashi)
1/4 cup (60 milliliters) vegetable oil, divided
1/4 cup (60 milliliters) mayonnaise
2 tablespoon (30 milliliters) Sesame Seed
2 tablespoon (30 milliliters) Homemade Japanese Furikake Seasoning (see separate recipe)
Preparation
1

Cook sushi rice as directed on package, using 2 1/3 cups (575 mL) water. Fluff with fork then stir in 2 tsp (10 mL) of the rice vinegar and 1 tsp (5 mL) of the sugar. Set aside to cool slightly while preparing filling.

2

Meanwhile to make the Quick Kimchee, bring remaining rice vinegar and sugar, orange juice, garlic powder, ginger and crushed red pepper to boil in small saucepan. Remove from heat; cool completely. Place cabbage, daikon, green onions and bell pepper in medium bowl. Toss with 1 tsp (5 mL) of the sea salt. Pour cooled vinegar mixture over vegetables. Set aside.

3

To make the chicken filling, mix chicken, Japanese seven spice and remaining ¼ tsp (1 mL) sea salt in medium bowl. Heat 1 tbsp (15 mL) of the oil in large nonstick skillet on medium heat. Add chicken; cook and stir 6 to 8 minutes or until cooked through. Place chicken in medium bowl. Add mayonnaise and sesame seeds; toss to coat. Finely chop 1 cup (250 mL) of the prepared kimchee. Add to chicken mixture; toss to combine.

4

To form the rice balls, scoop about 1/3 cup (75 mL) warm rice into palm of hand and make a deep indentation in rice. Place about 2 tbsp (30 mL) chicken filling in indentation. Using hands, gently shape rice around filling, forming into a cake [about 3-inches (7½ cm) wide and 3/4-inch (2 cm) thick] or a ball, adding additional rice if necessary to enclose filling. Repeat with remaining rice and chicken filling.

5

Heat remaining oil in same skillet on medium-high heat. Cook rice balls in batches about 3 to 4 minutes per side or until golden and crispy.

6

To serve, sprinkle rice balls with Furikake Seasoning. Strain kimchee, reserving ½ cup (125 mL) of the vinegar mixture. Serve rice balls with Quick Kimchee and reserved vinegar mixture for dipping.
RELATED RECIPES
Honey Salmon Gravlax
Carrot Lox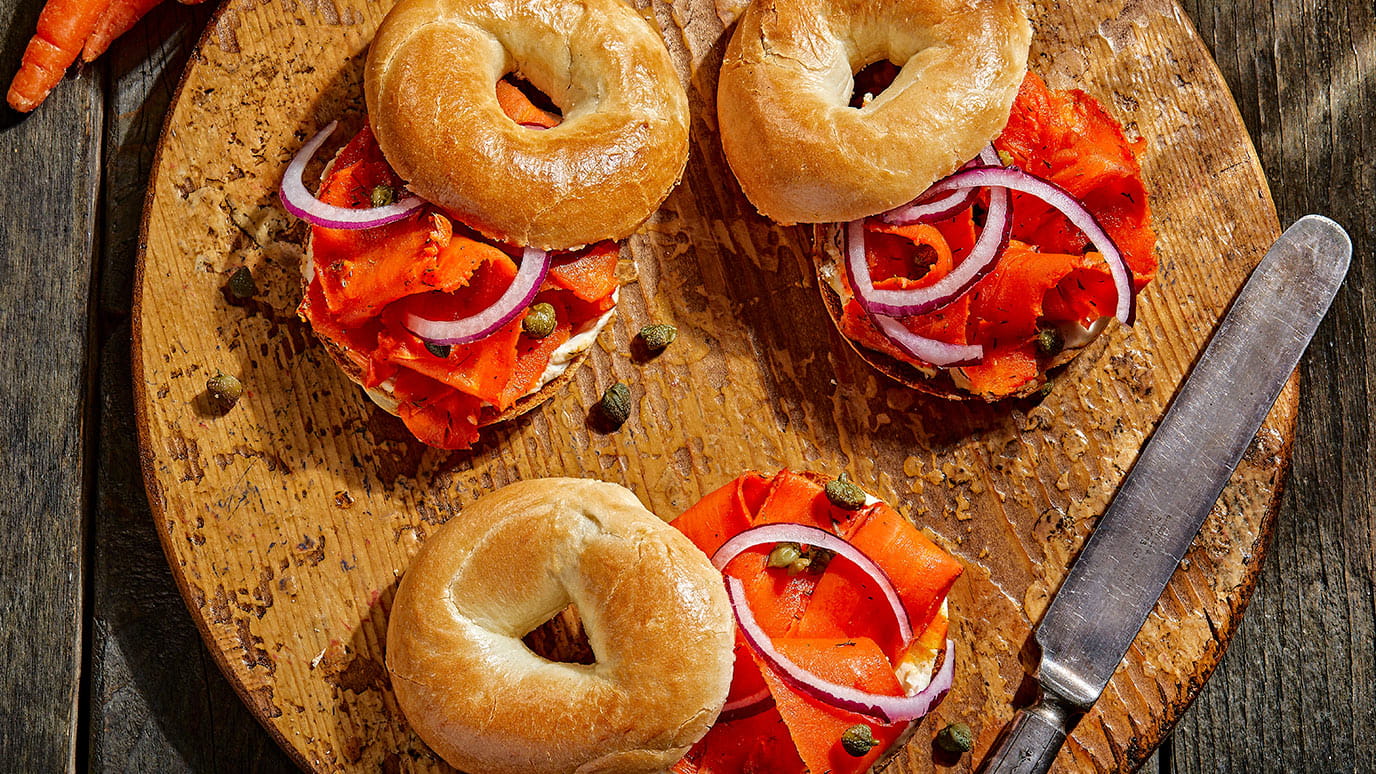 Roasted Vegetable Suya-Spiced Flatbread
Roasted Vegetable Suya-Spiced Flatbread
GET GREAT RECIPE IDEAS BY CREATING YOUR FLAVOUR PROFILE.